News
U.S. broiler exports achieve record highs
September 12, 2022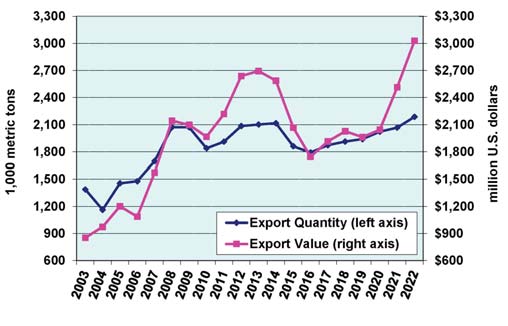 U.S. broiler exports for January through July this year set an all-time high in both volume and value, according to new trade data released by the USDA Foreign Agricultural Service (FAS).
China, Taiwan, Congo (Brazzaville), UAE, Turkmenistan, Iraq, Gambia, Singapore, Georgia, Mauritania, and Haiti showed tremendous gains in broiler exports from the same period a year earlier. Broiler exports for the first seven
months of this year were 2,186,492 metric tons, up 5.7 percent from the same period of last year, while export value reached $3.029 billion, up 20.5 percent (Figure 1). Of the total shipment,
57.2 percent or 1,250,267 metric tons were shipped to the top six markets, including China, Mexico, Taiwan, Cuba, Philippines, and Canada.
See more information in the September 12 edition of MondayLine.MondayLine